What Is Incinerator?
An incinerator is a kind of furnace, which is especially designed to dispose of different types of waste at very high temperature that converts it into ash. The process of burning waste to ash is called incineration and the purpose is to destroy waste in an environment friendly way so that it may not harm humans, animals and surrounding environment. Being environment friendly in nature, electric incineration is considered most favorable as compared to other disposal methods. An incinerator plays an important role in effective final disposal. General waste, biomedical waste, various laboratory wastes and dead animals etc. are some examples that need to be incinerated properly to keep environment clean and safe.
A typical electric incinerator is made of two burning chambers and one chimney. Waste is put in primary chamber to burn (1100°C) into ash; secondary ensures the fume gases released from primary chamber reaches to approximately 850°C for complete breakdown of toxic organic substances. Clean gases are further released through chimney. For some applications, water scrubber is added prior to chimney. Below, we have created flow diagram of typical electric incinerator: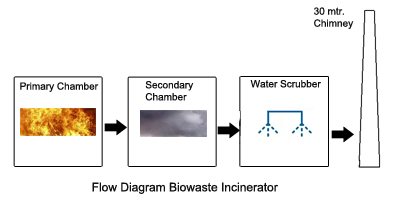 PlusFurnace™ Electric Incinerators
PlusFurnace™ incinerators are low emission systems constructed in portable design with electric operation. Manufactured by our company, our incinerators are successfully working in many hospitals, animal research and slaughter houses, pharmaceutical and various laboratories. We also manufacture sanitary napkin disposal incinerators that are installed in schools, colleges, hotels, tourist places, military operations and remote camps etc. Our electric incinerators are highly safe to use and do not pollute environment. Each unit is ruggedly constructed and delivers satisfactory performance even in toughest conditions; moreover, these units are sold at factory price throughout India and overseas with excellent warranty terms.
Manufactured by ISO certified manufacturing company in India, "Exacta Furnaces", our incinerators are made with highest standards of design offering corrosion resistant surface, user friendly controls and rugged construction etc. The company has been manufacturing incinerators since 1975 and has installed hundreds of units throughout India. No matter what type of waste you want to incinerate, we can provide you customized solution to fulfill your specific requirements. Our engineering team can work with you in design, manufacturing and implementation of technology etc.
Mostly we manufacture two types of incinerators; for biomedical waste disposal and for sanitary napkin disposal. Below, we have explained our expertise, scope of customization and various options that we offer to our clients:
Sanitary Napkin Incinerators
These incinerators are especially constructed for napkin disposal and mostly supplied to schools, colleges and universities. These napkin incinerators are completely environment friendly and feature easy installation and safe operation and disposal process. Their compact design makes these units easy to adjust anywhere they are used. Electrically operated, these napkin incinerators are available in 100 and 200 napkins per day capacities and takes 10 – 15 minutes to dispose 10 napkins.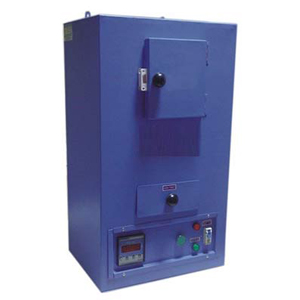 Biomedical Waste Incinerators
Also called hospital incinerators, these biomedical waste incineration systems are especially constructed for safe disposal of biomedical waste generated at hospitals and clinics such as human waste, clinical and pathological wastes, packaging, infusion kits, discarded medicines and drugs, used beddings and cotton wastes, path labs waste and animal wastes etc. We make biomedical waste incinerators with burn capacities 3kg, 5kg, 7kg and 10 kg up to 50 kg per hour or more. Temperature range of such hospital incinerators are up to 1100°C.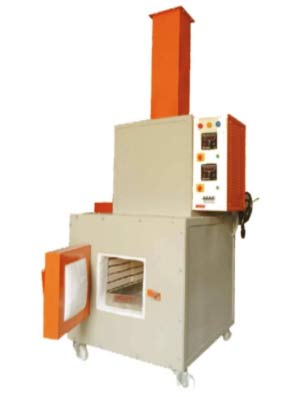 Design Construction
A hospital waste incinerator has two chambers; primary chamber and secondary chamber, a chimney and water scrubber. Waste to be burnt is put under primary chamber under approx. 800°C. Gaseous products (volatile mater) that come out from primary chamber go directly into the secondary chamber for oxidation / combustion process under high temperature approx 1000°C; it is a necessary process which prevents release of certain chemicals emitted by the incinerator from entering the atmosphere. The exhaust gases are further released from chimney passing through wet scrubber. Water scrubber removes or neutralizes harmful substances present in the exhaust gases.
These electric incineration systems consist of a primary chamber, secondary chamber, electric panel and chimney. The exterior is made of powder coated mild steel and unit is fitted with microprocessor PID controller for temperature adjustment. Caster wheels and water scrubber are optional.
Standard Features
Waste Burn capacity 3kg to 50 kg per hour
98% burning efficiency
Powder coated MS steel construction
Microprocessor PID controller
Water scrubber for gas neutralization
Ash collection tray
Optional
Stainless steel exterior
Lockable caster wheels
Incinerator Specifications
Capacity
3kg, 5kg, 10 kg, to 50 kg per hour
Temperature
Up to 1150°C
Construction
Powder coated MS
Element
Kanthal A1
Temperature controller
Digital PID controller
Safety
Over temperature protection
Standard fittings
- Temperature controller
- Mains MCB
- Ash collection tray
- Chimney 2.5 ft
Optional
- Stainless steel construction
- PLC HMI interface
- Extra length of chimney
- Water scrubber
- Caster wheels with lock